California sparkling wine grapes (Chardonnay and Pinot Noir) love cool climates which produce grapes with low sugars and high acids. The picturesque Russian River appellation runs from the ocean to Healdsburg in Sonoma--a beautiful drive along the river with fog shrouded hills and towering redwoods. We stopped for a hike at the Armstrong Redwoods State Reserve among the dappled light of the forest. The Parson Jones redwood is here--at 310 feet tall, the tallest redwood in the state.
Korbel
has been making champagne in the French tradition for more than 120 years. We enjoyed a nice lunch al fresco, but didn't take the tour as we we anxious to check into Hotel Healdsburg, one of our favorite boutique hotels. A comfortable mod hotel with Tibetan carpets, dreamy beds and an elegant hot breakfast buffet, Hotel Healdsburg is classy and friendly. Charlie Palmer presides over their
Dry Creek Kitchen
restaurant, with fresh, local ingredients. We had the carmelized goat cheese salad, pan roasted bass and roasted pork tenderloin with our own bottle of 2005 Chalk Hill Cabernet Sauvignon--yum!
Another wonderful Healdsburg restaurant is
Bistro Ralph
, right on the town square. The local wine list is extensive and the menu upscale casual with items like lamb burgers and seared albacore with ponzu sauce. They serve lovely hot herbed rolls right out of the oven. Of course, famed
Cyrus
is in Healdsburg--chef Douglas Keane was voted Best Chef of 2006 by
Food and Wine Magazine
and the restaurant was given two stars by Michelin. Last year we had two drinks and a shared appetizer there and the tab was over $100--alas, we felt a dinner would be out of our price range.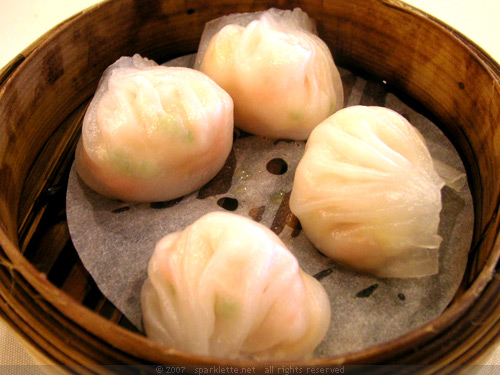 There's no need to pay a lot of money for great food in our next stop: San Francisco, city of fabulous food! The Great Eastern Restaurant in Chinatown (649 Jackson Street) is one of our mainstays for dim sum. The place is always packed; try the steamed shrimp dumpling and stir fry greens.